Florence- A prominent city in Renaissance Europe, "the Athens of the Middle Ages", hegemony of Medici (the wealthy bankers) family during 15th century, Da Vinci's days at the gallery of Verrocchio, a versatile artist and engineer who ran one of the best workshops in Florence.
It was a lovely sunny morning with a nip in the air. The hotel in which we stayed in Rome looks like an old mansion and it gave an aura of mystery. We had a lovely photo session in the front area of hotel.
The foliage, behemoth trees, big lawns and those steps on which we sat, waiting for the bus driver transported me into my college days when we sat under the gnarled and twisted branches of the old tree and relished chips and slice which we brought from home. And that behemoth tree in the center of the college, a home to birds and a shady canopy for the students.
En route toward Florence
As the bus reached, we all boarded it for our journey toward Florence. The bus driver had tattoos all over his arms and they seemed to match his jaunty personality.
After reaching Florence, the driver dropped us by the Arno River and from there we walked toward the Piazza Santa Croce. It took almost eight to ten minutes to reach Piazza Santa Croce.
The word Piazza seems like an older brother of Pizza with an extra a. In reality both words do have Italian origin but there is no brotherhood between them. Piazza means a public square in an Italian city and we all know Pizza is a delectable treat for almost everyone, young and old alike. On a lighter note, one can gobble down pizza while taking a stroll in the Piazza.
Piazza Santa Croce
As we walked into Piazza Santa Croce, the first thing we noticed was the Basilica of Santa Croce from which the Piazza takes its name. The basilica is also the burial place of Michelangelo, Galileo, Machiavelli, the philosopher Gentile, the poet Foscolo and the composer Rossini.

There was a statue of Dante, the great poet, located to the left of the basilica and tourists were swarming in front of it to take photos. The statue, created by a sculptor Enrico Pazzi was placed in the middle of Piazza on May 14th 1865 and later it was moved to its present location in 1968.
We walked through the alleys, past the leather shops and boutiques. Peruzzi, a leather goods store was a three minutes' walk from the Basilica de Santa Croce.
There was a Pinocchio statue sitting on the bench in front of the shop and tourists were eagerly waiting for their turn to take a photo with it.
Piazza della Signoria
After wandering through the cobbled alleys, we reached Piazza della Signoria. A replica of David statue stands outside the Palazzo Vecchio but it was cordoned off for restoration. The equestrian monument of Cosimo 1 (1594) by Giambologna in Piazza della Signoria reminded me of TV series Medici, aired on Netflix. I inched closer to get a better look at the statue and reliefs at its base, depicting Cosimo's life.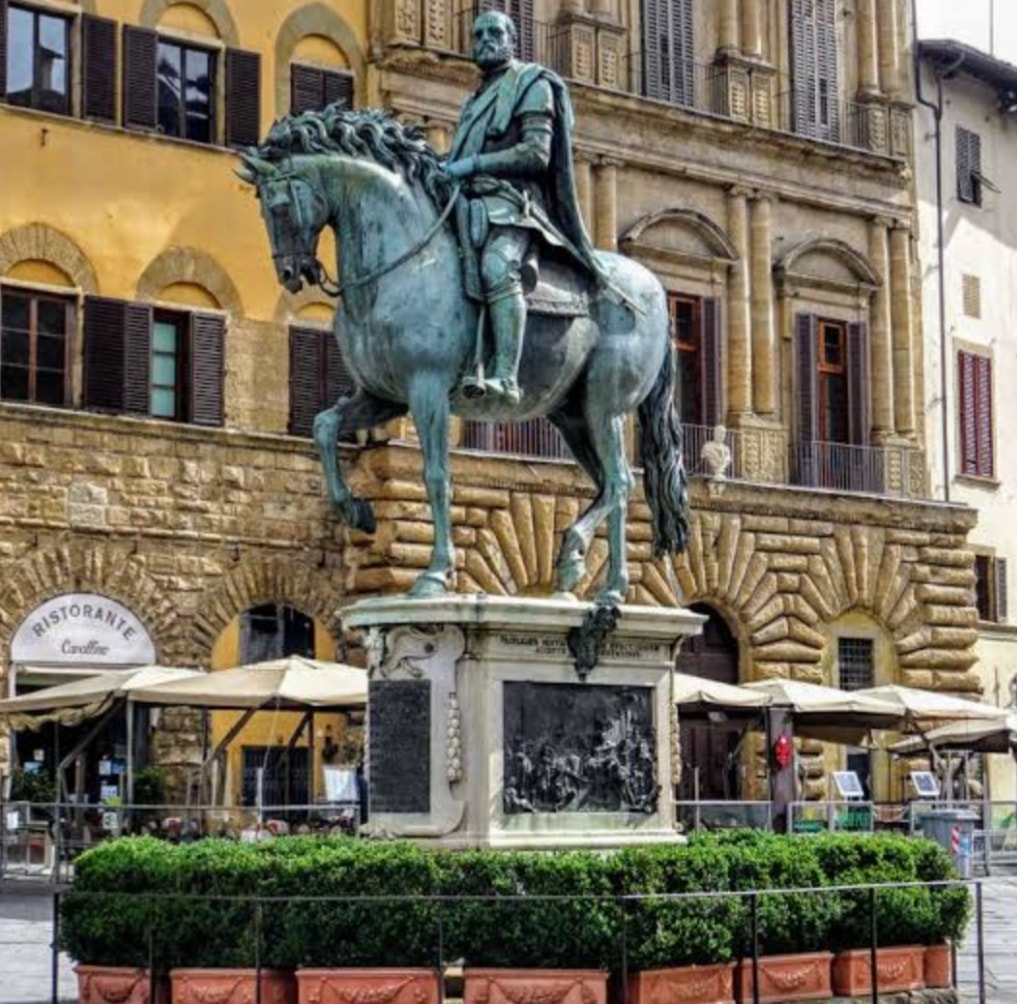 During fifteenth century, the Medici family was considered the wealthy bankers."Cosimo died in 1464, just as Leonardo arrived in Florence from Vinci. He was succeeded by his son and then, five years later, his famous grandson, Lorenzo de' Medici, aptly dubbed Lorenzo the Magnificent."
The poet Ugolino Verino praised Florence, "There is no place more beautiful in all the world."
There were a lot of stalls selling leather goods, paintings and souvenirs. So you must have good bargaining power if you want something for the folks at home. No one can stop ladies from exploring the markets. They simply cannot resist. After getting acquainted with the alleys of Florence, we went on a shopping expedition. Scarves, leather bags and wallets were the main attraction in Florence.
Encounter a tattooist in Florence
One of our group members got an anchor tattooed on her wrist. It was the first time that I encountered any tattooist. His shop was adorned with pictures of tattooed people and had an amazing collection of tattoo designs.
We had an amazing lunch arranged by a Pakistani family who came a long way from Milan with finger- licking Pakistani food that we've been craving for days.
Experience of Taxi Drivers in Rome
After reaching Rome, the bus driver dropped us off at the Pizza hut for dinner and we had to return to hotel by taxis. Each taxi took four people back to the hotel so we got into four taxis, laughing and chatting about a day spent in Florence. I remember one of the drivers asked where we came from. The drivers seemed to make an alliance to hoodwink us by charging different fares, although we took ride from the same place. Even after a long argument, no consensus was reached and so we end up paying more.
The night was closing in so we walked toward our rooms after saying goodbye to each other. I badly needed a cup of tea so after changing into my pajamas, I warmed my hands around a cup of hot cup and sipped it slowly to savor the taste. By the time I finished my tea, my husband was snoring so I made my way toward the bed before the snoring grew louder. Just joking!
Another day was waiting to cast its spell on us so I closed my eyes and tried to visualize the Eternal City-Rome.
Please follow and like us: