A leaning cylindrical tower of Romanesque architecture.
A picture of leaning tower inside a book, on the cover page of magazine. Photos of tourists with that architectural wonder in the background. How is it maintaining its inclined position for such a long time?
I've always been fascinated by the leaning tower of Pisa. Your imagination before you see any place is different than the reality. I don't exactly remember what I visualized before, but I must say what a marvel to see.
Pisa Tower
We travelled from Milan to Pisa via bus. It's a small town in the Tuscany region of Italy. After getting down the bus, most of the group members wore hats to protect themselves from the sweltering heat of Italy. Then we stopped on the side of the path where there was a whole display of souvenirs.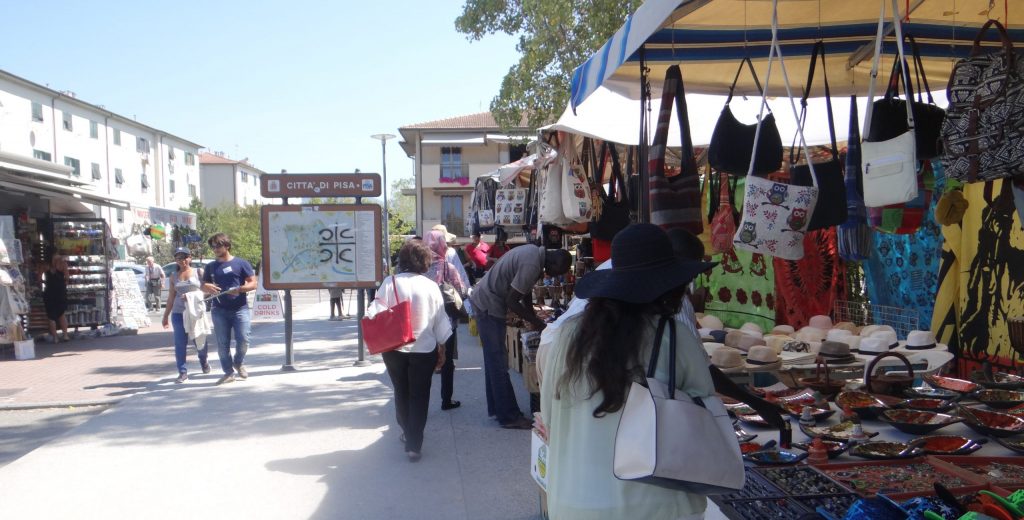 After crossing the railway line and a walk of few minutes, you can reach the enclosed area of tower. The road leading to Pisa Tower was flanked by souvenir stalls. There were also a lot of small restaurants to fill your belly when you get exhausted by the tour. The temperature in August is quite high so it's preferable to visit it during spring or winters.
Field of Miracles
As we entered the enclosure, the Field of Miracles, there was an influx of tourists who were busy taking forced perspective photos with the tower. They were pretending to push, kick, devour, and hug the tower. However, the most common shot is the one in which you are supporting the leaning tower of Pisa.
Though I didn't avail an opportunity of climbing the stairs of Pisa tower but I'm quite sure it must be an amazing experience for those who want to enjoy the panoramic view of Pisa. The buildings next to tower are Pisa Cathedral and Pisa Baptistery and they've been well-kept over a long period of time to preserve history for the future generations.
We, often, feel a sense of pride in breaking the rules, whether large or small. Making a deliberate thrust and usurping a place in queue is not uncommon in mischievous tourists, but most of the visitors over there were following the rules and any sort of transgression was met with raised eyebrows.
The scorching heat at Pisa made me thirsty so I tried to quench my thirst time and again, and therefore I'd to make my way toward the restroom. One thing which I simply appreciate about foreign countries, whether Europe or America, is the availability of clean facilities for the public.
A fake belly
An interesting incident happened in Pisa. A pregnant girl tried to steal a wallet from the backpack of one of our group members. However, the girl was lucky to grasp that pickpocket in no time. She also informed the police strolling around the tower, but those thieves were nowhere around. Actually, the way she ran from the spot, it became evident that she was not pregnant, and was only feigning her pregnancy by wearing a fake belly. Thieves are all around the world, however, they differ in their specialties and shams.
Rome
We reached Rome at evening and had our Italian thin crust vegetarian pizza at a nearby restaurant. In Italy, they offer both thin and thick crust pizzas. The pizzas in Rome have thin crust while in some other parts they have thick crust.
The pizza was served along with an appetizer of eggplant, a really yummy one. You can make any ordinary vegetable worthy of eating by doing a little twist in the recipe and—voila—here you go with a new version of that, a delectable one.
The rest of our journey was spent exploring the historical sights of Florence and Rome.
Please follow and like us: