The flag is fluttering in the mild breeze. Clouds are drifting toward the building with a white façade, surrounded by a cluster of eucalyptus trees. In no time, the clouds burst open and almost everything vanishes in the heavy downpour. A kid, standing close to the flag pole shouts for someone to take down the flag. He and his friends help the guard to furl the behemoth flag and hurry down to the corridor. And on the way toward the classroom, holding hands, they sing:
"Dil Dil Pakistan
Jan Jan Pakistan
Happy Independence Day…"
The corridor is echoing with their chants.
All these images keep flickering through his mind as he resists sleep. He looks at the wall clock. "Time for Fajr." He offers a prayer and makes dua for the safety of his homeland.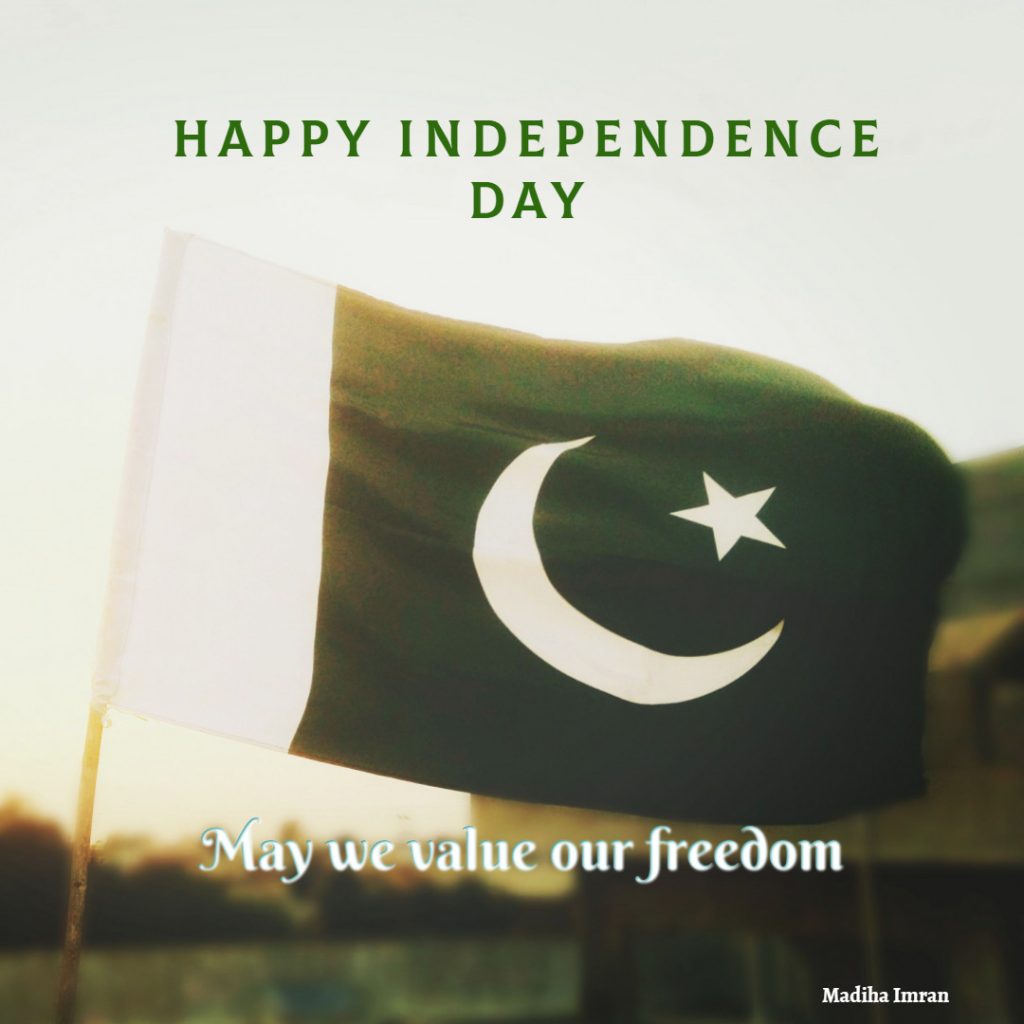 Independence Day
Every year, we hoist flags on our rooftops and a few decorate their homes with bunting. And then we sit inside our chilled rooms, watching Netflix and munching on snacks. We seldom watch 'Azadi Parade' on TV, streaming through almost all the channels. Kids wear badges, ladies don green dresses and arrange gatherings at home. A few even bake cakes and adorn with white and green frosting. All these are our own ways of expressing love and respect to our country.
Our grandparents, who have first-hand experience of migration often relive those moments in their minds. The frail and elderly, lying in their beds, traced their memories on the ceiling. They want to transfer the hidden treasure of stories into their kids and grandkids.
True meaning of Independence
No oppression and no fear. Free soul and body. Free to practice your religion. Freedom from servitude.
We are born in a free state and could never understand the true meaning of living in subjugation. Just for a moment, put yourself in the shoes of those who are working in a harsh environment, whether they're domestic servants or peasants on fields. As we often watch documentaries showing the workers subjugated by influential landlords. If we can feel the real pain of oppressed people, only then we can understand the true essence of freedom.
Consciousness of being independent is a blessing. May we make a promise to ourselves to value our freedom we've taken for granted. We're not among those who sacrificed everything for this country, we're just the recipients of the precious gift soaked with the blood of our forefathers. May we contribute our part for the betterment of this country, however a small it may be. Amen!
Please follow and like us: